Pittsburgh's Airport
Pittsburgh International Airport needs to be updated to meet the changing needs of airlines, passengers and the travel industry. The current facility was built for connecting passengers and is not ideal for an Origin & Destination market. This airport is the gateway – the first and last impression – that travelers see of our region. The airport is growing again, along with the region, and the building should reflect that.
The Terminal Modernization Program will create a more efficient, enjoyable experience from curb to gate for passengers by consolidating landside and airside operations into one connected, adaptable facility. A world-class team has been assembled to design and construct a new terminal that is flexible in meeting today's transportation challenges as well as tomorrow's technological advances.
The new terminal is to be built adjacent to the current Airside between Concourses C and D and is scheduled to open in 2025. It is based on a unique philosophy of nature, technology and community – NaTeCo – developed by the design team joint venture of architectural and engineering firms Gensler and HDR, in association with luis vidal + architects. The new terminal is inspired by the beauty, tech renaissance and people of the Pittsburgh region to be iconic, practical and flexible as technological and transportation needs change.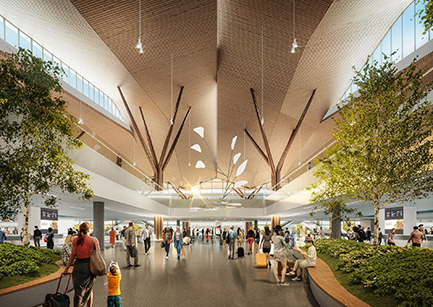 Design Features
Specifics of the design for the new terminal that consolidates check-in, ticketing, security and baggage operations into one connected facility, have been refined through the Design Development Phase. While still subject to change, the design currently features:
Separate levels for departing and arriving passengers and a non-public level for building systems such as baggage belts
Additional space for an expanded TSA checkpoint
Shorter walking distances for arriving and departing domestic and international passengers
Indoor and outdoor green plazas and gathering spaces
Additional space for concessions, artwork and other amenities
Planning for technological improvements and more automated systems
Emphasis on sustainability
Introducing NaTeCo
NATECO
NaTeCo (Nature, Technology, Community) is the philosophy informing design and construction of a new terminal at Pittsburgh International Airport.
NATURE
The terminal design team is taking inspiration from western Pennsylvania's rolling hills, rivers and parks with landscape contours reflected in the structure and façade of the building.
TECHNOLOGY
The region's new economic energy and tech renaissance is giving rise to innovation in passenger flow and building systems for a more modern, adaptable facility and improved user experience.
COMMUNITY
A proud history, along with a new shared vision and collaborative leadership, is combining to build a smarter airport that truly reflects and belongs to Pittsburgh.
The people behind the TMP blend the creativity, know-how, and insights of experts from the Pittsburgh region, the international community and the Allegheny County Airport Authority. Meet the team that's working to create a better passenger experience and deliver real opportunity for the region.
Allegheny County Airport Authority is seeking companies who wish to support the success of the TMP. Browse current RFPs and more opportunities.