Business Opportunities
There are a number of opportunities to help support the Terminal Modernization Program (TMP) and Pittsburgh International Airport. Please check this page frequently as the TMP evolves and new opportunities arise.
Upcoming Events:
POSTPONED: Industry Day #5 and Airport Small Business Fair
Focusing on: Upcoming Terminal Modernization Construction Bid Packages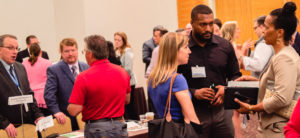 Thanks to those who had registered to attend our Industry Day #5 event that was to be held on March 25 at the David L. Lawrence Convention Center.
At this time, due to the evolving situation around COVID-19, and in the best interest of safety and precautions for attendees, we are postponing the event.
We are working to develop an on-line/virtual format that will be held at a future date. We will let you know when the event is rescheduled, how you can participate, and when registration has re-opened.
We apologize for any inconvenience this may cause, and we thank you for your ongoing support of Pittsburgh International Airport's Terminal Modernization Program.
Current Procurements:
Interior and Exterior Fixtures, Furniture and Design Elements RFQ
The ACAA and its team of architects and designers for the Terminal Modernization Program seek to collaborate with Western Pennsylvania artists, designers, craftspeople, and manufacturers on a host of interior and exterior fixtures, furniture, and design elements. To connect these makers with opportunities throughout the design and construction phases, the ACAA is creating a "pool" of qualified makers who may be invited, at a later date, to submit proposals for specific fixture, furniture, and design needs. Respondents to this RFQ will be reviewed for inclusion on this pre-qualified list.
Early Site Access Bid Package Advertisement
The ACAA is soliciting proposals until 1 p.m. on Feb. 5, 2020, for general, electrical, mechanical, plumbing & fire protection work associated with the Early Site Access Bid Package to prepare the construction site of the Terminal Modernization Program. 
DOWNLOAD AD >
DOWNLOAD SUMMARY OF WORK >
NOTICE OF PREBID MEETING CHANGE OF LOCATION >
Receive Updates & RFPs
Sign up below to receive up-to-date information about opportunities to support the TMP, including upcoming procurements. All fields are required, except where noted.