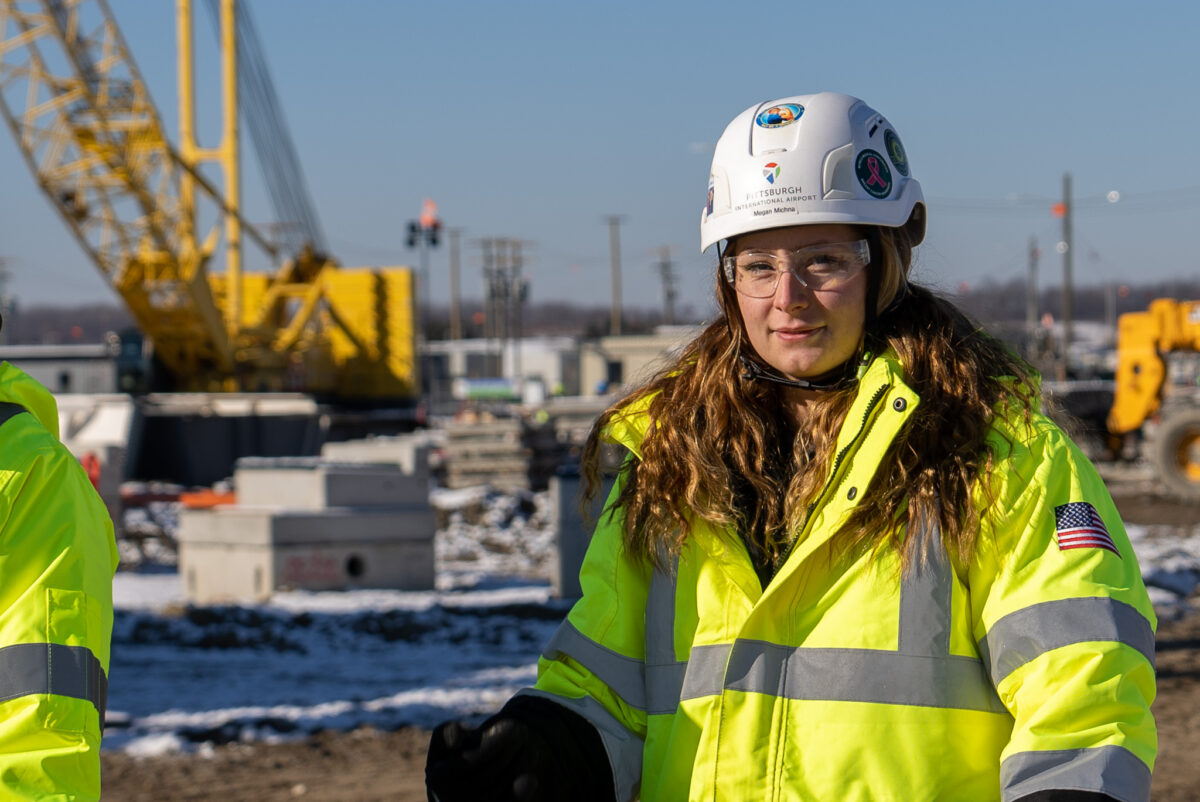 Building a New Terminal – and Workforce
Megan Michna was in college when she first came on board in January 2022 as part of Pittsburgh International Airport's new terminal program as an Environmental Health and Safety Coordinator.
Hired full-time last June, she said the 15-week experience was valuable and helped her gain confidence.
"I was going to school during COVID so a lot of stuff was online, and I didn't get to do anything in person," Michna said. "When I came onto the construction site, it was a whole different ballgame. It's a huge project. This will prepare me for any job after this because of how big it is."
February is National Career Technical Education (CTE) Month, dedicated to raising awareness of how CTE prepares students for success while positively impacting the workforce economically. CTE is indispensable to the TMP year-round, providing students with valuable hands-on training while creating the skilled workforce of tomorrow for projects at PIT and elsewhere.
"We've got a lot of local people out there who are doing really important construction work," said Christina Cassotis, CEO of the Allegheny County Airport Authority (ACAA). "We hope other people get inspired to think, 'Hey, maybe that is something I'd like to do for a living.'"
As an intern, Michna's duties included handling incident reports, making field observations of best practices and areas for improvement and documenting those observations. She also assisted during new hire orientations.
In May 2022, Michna graduated from Indiana University of Pennsylvania with a Bachelor of Science in Occupational Safety, Health, and Environmental Applied Science. Today, she is employed full-time by Sheesley, which provides permitting and environmental coordination, program-level quality management and civil engineering services on the TMP.
Building a well-prepared, diverse talent pool
The TMP encompasses two components: a state-of-the-art new landside terminal and a Multi-Modal Complex (MMC) for ground transportation, more covered parking and a roadway system connecting the new terminal and MMC with the existing airport entry and exit roads.
The new, modernized airport, slated to open in 2025, will be tailored to the Pittsburgh market needs with a shortened walk and wait times, intuitive wayfinding and new concessions. Built "for Pittsburgh, by Pittsburgh," the design of the new terminal reflects the natural beauty of western Pennsylvania, and it is being built with mostly locally sourced materials.
On this and other projects, the ACAA is forging new partnerships and programs to provide the local community with skills enhancement and training — combining forces with local workforce development organizations, unions and community groups to build a well-prepared, diverse talent pool while breaking down barriers to entry.
Stephen Sikora, previously a scuba diver in Bali before the COVID pandemic, is a second-year carpenter apprentice for Rycon Construction, the general trades contractor for the TMP garage and surface parking project. In this role, he works in the concrete division and is helping build the parking garage. He said every day is a learning experience.
Sikora is one of 44 apprentices working on the TMP as ironworkers, operators, electricians, laborers and carpenters across all projects. Apprentices make up about 10 percent of the total workforce.
"Many people on the site have been doing this for a long time and know how to do many things. If you want to learn something, this is the job to do that," Sikora said. "I'm doing stuff I've never done before, learning how to do pier caps and read blueprints… It's a lot to take in."
Sikora sees himself in carpentry for the long term. "Being a carpenter, you make great money, you learn how to build a lot of things," he said. It's a great career and something I don't want to just jump out of because it's going to be around forever."
In addition to internships and apprenticeships, site tours provide a learning opportunity for groups visiting the TMP. Last year, The American Society of Safety Professionals brought more than 40 college students on site, and architects are currently coordinating an ACE Mentor Program visit.
Michna considers herself fortunate to be working on this project. "I saw it when it was dirt; now I'm going to see it when it's completely finished. And that's going to be pretty cool," she said.